Saved Vehicles

[

00

]
Welcome to My Garage, the modern way to utilize car inventory searches and make it easier for you to collect your vehicles of interest. Now you can personalize your vehicle search with cars that you have recently viewed and saved. If you sign up for our Alerts tool you will be notified by email when a price has been changed or the car has been sold. Our Auto Locator tool will also notify you when a vehicle you are searching for has been added to our inventory. We hope you enjoy using our My Garage tool.
Recently viewed (0)
No viewed cars.
Current Models
Previous Models
Year


Make


Model




Print
---
Zonda C12
It's the ultimate sports car experience. Completely driver-centric and performance oriented, the Zonda C12 is equally at home on the track as it is on the open road. Being light weight with a high power to weight ratio, it delivers a super car punch that would shame many more expensive rivals.
---
Overview
Born from the passion of a little boy, the Zonda C12 is the first Pagani supercar to be constructed at the atelier of San Cesario sul Panaro. The bodywork, inspired to the Silver arrows of the Mercedes C group, encloses the essence of an unmistakable wind, where art and science beautifully combine to create a unique symphony, fascinating and bewildering at the same time.
Performance
Both Zonda C12 or C12 S have stunning good look which are penned by Horacio Pagani himself. For your information, Mr. Pagani is the one who styled the 25 Aniversary edition of Lamborghini Countach. Yes, this is a real supercar shape – futuristic, imaginative and aggressive. The wedge front end and bubble glass cockpit are not unlike endurance racing cars. The split rear spoilers in C12 S (in contrast to the C12's conventional one-piece wing) are unique and beautiful. The jet-engine-like exhaust pipes are even the car's trademark. It set every viewer on fire. Facing the Zondas, Lamborghini Diablo and all Ferraris seemed barely warm. Simultaneously, you'll find Pagani's cars are artistically styled and carefully crafted like the pre-war Bugatti. You can feel the heart and soul put inside the car. Pagani's customers must be laughing at those buying the cheap-looking and raw-feeling Mercedes CLK-GTR at 1.1 million pounds. They paid a quarter of that to get a real high-quality supercar.
Interior
The cockpit is concept-car-like, covering with colourful leather, aluminium and carbon fiber, the latter is the most obvious evidence of carbon-fiber chassis. It might not employ as many carbon-fiber as McLaren F1, especially for load bearing, but the whole cockpit is a carbon fiber survival cell, not just chassis tub. Load bearing is more conventional – tubular steel frames mount the suspensions and powertrain. This is less rigid than McLaren or F50 but reduce the vibration transmitting to cockpit a lot. Unsurprisingly, suspensions are all double-wishbones for optimum control. Aluminium control arms hold 18-inch wheels wearing wide rubbers. As a whole, the car tips the scale at just 1250 kg (dry weight), at least 200 kg lighter than the stripped-out Diablo GT, thus benefit acceleration, handling and braking a lot.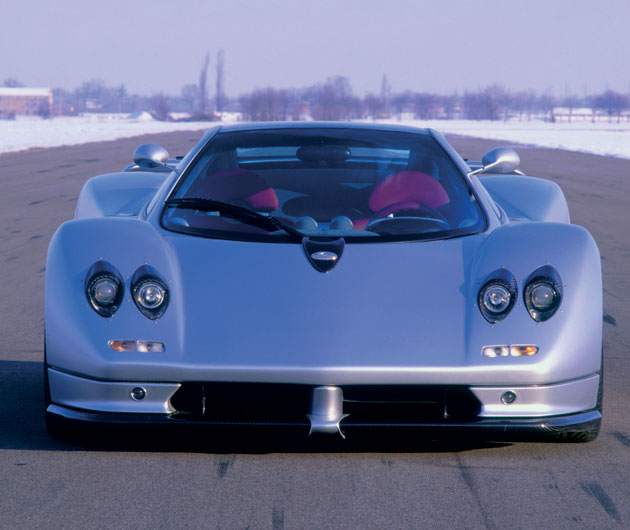 ---

---
0-60 mph
4.0
sec
0-100 km/h
Maximum Torque
472
lbs/ft

Displacement
5987 cc
V12
V12
---