Saved Vehicles

[

00

]
Welcome to My Garage, the modern way to utilize car inventory searches and make it easier for you to collect your vehicles of interest. Now you can personalize your vehicle search with cars that you have recently viewed and saved. If you sign up for our Alerts tool you will be notified by email when a price has been changed or the car has been sold. Our Auto Locator tool will also notify you when a vehicle you are searching for has been added to our inventory. We hope you enjoy using our My Garage tool.
Recently viewed (0)
No viewed cars.
Current Models
Previous Models
Year


Make


Model




Print
---
Zonda Cinque
Zonda Cinque is the response of the Pagani atelier to a specific request submitted by the official Hong Kong dealer: "The most extreme road–legal Zonda ever created"
---
Performance
Even during open-top cruising, this supercar makes no compromises in terms of maximum speed – a result accomplished by means of improved aerodynamic properties and the rigid chassis with increased bending and torsional rigidity. Improvements include, amongst other things: development of specific reinforcing elements in the door sill area and tank area; specifically designed roll bars, also serving a structural function at the chassis frame level, and lastly, high-modulus 3-way carbon fibre composites. The Zonda Roadster F, which weighs pretty much the same as the coupé version, clearly testifies to the great success of the Pagani team in terms of the aesthetical-functional improvements made, having achieved a 7:29 lap time on the Nürburgring racetrack (only a few seconds behind the Clubsport version). Produced in a limited run of 25 units.
Overview
The differences from other variants of the Zonda were the new 6-speed sequential gearbox, resulting in shifts taking less than 100 milliseconds, dropping the 0–100 km/h (62 mph) acceleration time down to 3.4 seconds. The gearbox has three driving modes, namely Comfort, Sport and Race which optimises the gearbox for different driving conditions. The Cinque also had a revised form of carbon fibre called "carbo-titanium" which incorporated titanium in the weave to increase strength and rigidity. The suspension used magnesium and titanium components, and the 7.3-litre engine's power and torque were increased to 678 PS (499 kW; 669 hp) and 780 N⋅m (575 lb⋅ft).
Interior
The double – front nature of the supercar that was designed for the racetrack and which is now ready to hit the road, is reflected in the sophisticated interior, with details that reveal its sporty character. The Zonda Cinque gives clear details of its heritage that traces straight back to the Zonda R, with its leather seats equipped with 4 point seat belts and Pagani carbon monocoque, and last but not least, the carbon coated molybdenum-chrome steel roll bars. The design of the control devices, also inspired to the racetrack – such as the ergonomic levers located behind the steering wheel – aim at providing the highest levels of precision and total immersion in driving pleasure. The Zonda Cinque is the first road-legal car to feature a carbon-titanium frame and is also the first Zonda ever to mount a 6-gear sequential transmission that offers the driver uncompromised driving performance, with improved gear shift movement when cruising at high speed, and lightness and comfort when driving in the traffic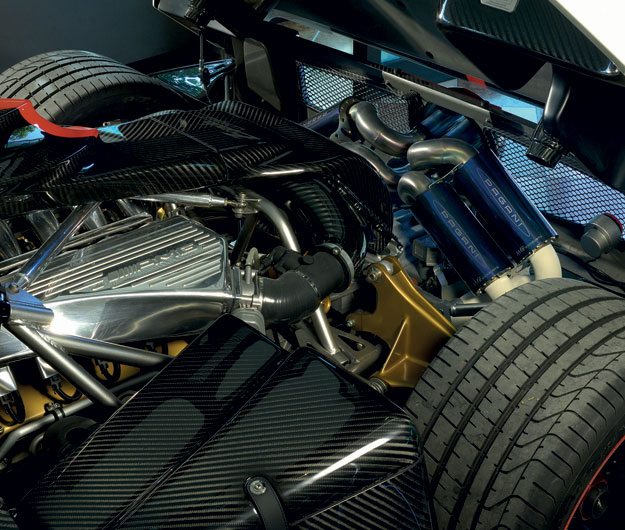 ---

---
Maximum Torque
575
lbs/ft

---